Games
Rudi Rainbow and the lost colors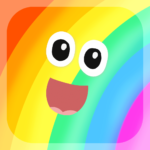 The educational storybook app "Rudi Rainbow and the lost colors" teaches kids aged 5 and older about the weather and space. Join Rudi on his adventure and meet the residents of the weather-capital Novemberville. Learn how wind or rain are made and apply your knowledge in 6 interactive mini games. "Rudi Rainbow" will be available on the App Store (iOS) on June 24th.
Category: Arcade, Casual | Released: July 2017
MONO!
MONO! is a relaxing game to play on the side. Dive into another world and let MONO! enchant you!
The combination of the colors, the clear shapes and an amazing soundtrack put you in a relaxed yet concentrated mood and let you forget about everything around you.
Category: Arcade, Casual | Released: July 2012
Gezz
Coming soon…
Category: Trivial, Casual